AboutGerman.net • Learn German Online
German Language & Culture
Welcome! • Willkommen! | Lessons | Vocabulary | Learn German Forum | About • Contact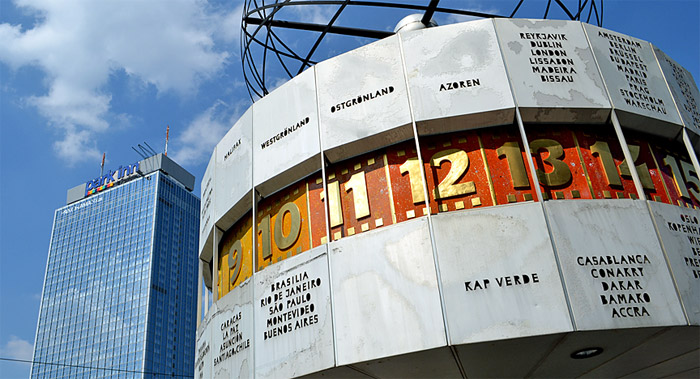 The Weltzeituhr (World Time Clock) at Berlin's Alexanderplatz. PHOTO: Hyde Flippo

Time to Say "Auf Wiedersehen" - AboutGerman.net
Goodbye! I began this site in 2003, even before I left my position as the German "guide" (now "expert") at About.com in 2008. I'm proud of what we did at AboutGerman.net, especially the German Word of the Day feature ("Wort des Tages"), and our Learn German Forum, a unique (and free) platform for German-learners. But now it's time to move on.
Join the New Forum
Although our site and the forum are closing, I'm happy to announce that our forum team, led by Robin, our forum manager, will continue to serve forum members at the new forum and website: gemeinsam-deutsch-lernen.net (see the link below).
All members of the old forum are invited to register at Robin's new one. New members are also welcome. Some forum members have volunteered to help with administrative tasks. Such members should contact Robin about elevating their status. We also suggest that current members use the user name that corresponds with their old one, so that people can more easily recognize you. See more details below.
---
THE NEW FORUM
gemeinsam-deutsch-lernen.net
This is the new address for the German-learning site that Robin is setting up. Although you can register now, the site still needs a lot of work. Forums and boards need to be set up in full, and the site still needs a logo, a name, and whatnot. But Robin now has general discussion areas for the three languages he'll support (German, English, Russian). More…
---
THE GERMAN WAY
www.german-way.com
My longtime German Way website (since 1996!) is still online and ready to serve German-learners, expats in German-speaking Europe, travelers, and anyone interested in the language and cultures of Austria, Germany, and German-speaking Switzerland.
GW Expat Forum
For expats in Germany, Austria or German Switzerland – from our sister site, The German Way.
---
Follow us on Twitter! (@TheGermanWay)
Like us on FACEBOOK (GermanWay)

---
Copyright © 2015 Hyde Flippo (German Way) - Ver. 1.0